Top 5 Slovenia Day Trips From Ljubljana
As European countries go, Slovenia only ranks 38th out of 50 in size. That's good news because every inch of that small country is packed with some of the most beautiful landscape you will ever encounter, compactly navigable. Along with mountain giants Italy, France, Austria, Switzerland, and Germany, little old Slovenia also boasts access to the Alps on its stunning northern border. Slovenia also touts a small piece of the Adriatic, nestled between Italy and the Dalmatian coast. And Europe's largest caves? Yep, they're in Slovenia. Wine country? Slovenia's got some of Europe's best. And because it is so tiny, getting from Ljubljana, the capital city of only 300,000, to anywhere is simple with a car hire, and in fact one can travel north to south in about 2 hours. While the sights are endless, we'll break it down to our Top 5 day trips from Ljubljana based on quality of experience blended with budget in mind. So pick up your 5-day rental car at the airport, and hit the accelerator!
First a few key words:
Hello= Zdrava (ZDRAH-vah)
Goodbye= Adijo (a-DEE-oh)
Please= Prosim (pro-SEEM)
Thank you= Hvala (h-VAH-la)
Beer= Pivo (PEE-voh)
Another beer please= Še eno pivo prosim (shay EH-no PEE-vo pro-SEEM)
1. Lake Bohinj
It's number 1 on our tour because it's also at the tip top of our list. Bohinj, about 1 hour and 15 minutes from Ljubljana, is simply breathtaking. It's a turn-the-corner-and-WOW little lake. What's more, there's a walking trail that circumnavigates this very manageable lake. The hike itself, with an excellent beauty-to-difficulty ratio, takes about 4 hours but you can stop anytime you want. Best of all, it's relatively unpopulated compared to more famous sites like Bled, and is inviting to swimmers, kayakers, and rowers alike. Lake faring vessels are for rent in town at reasonable prices on this crystal clear body of water, and while only paid parking is available, we highly recommend you save a few euro and park just as you're entering the town for €5 and walk the 10 minutes through the village to the lake. You'll save money and get a great tour of this special lakeside town. There are plenty of pizza and sandwich options available in town but we recommend you cross the bridge by the church, Cerkev Sv. Janeza Krstnika, and start the trail, keeping the lake to your left. That trail will lead you around the lake but not before you run into Restavracija Kramar about 15 minutes in, where you can order reasonably priced (and excellent tasting) pizzas, burgers, salads, beer, and wine. Eat on the deck for a perfect lakefront view.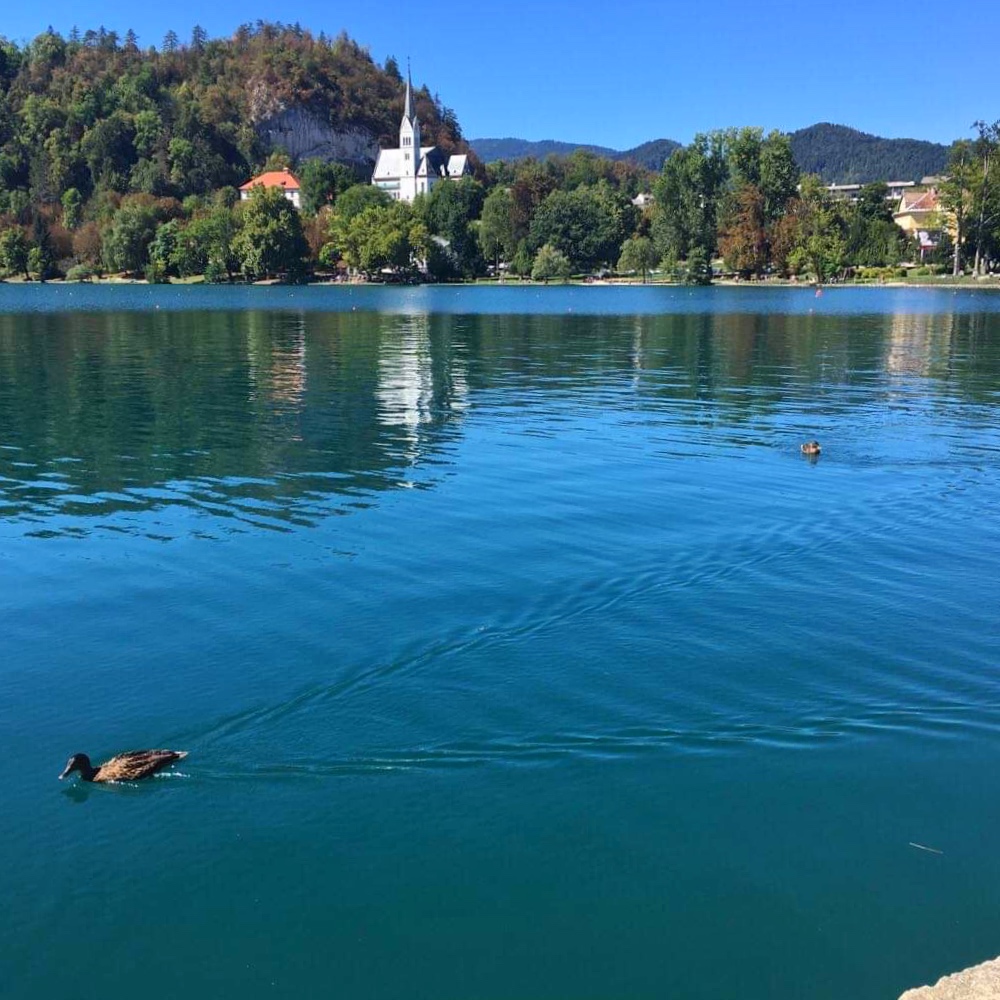 Ljubljana notwithstanding, Bled is Slovenia's top destination, and for good reason. It's easily one of the most picturesque lakes you'll ever see, and it even has a beautiful castle on a tiny island in the middle of it! No motorboats of any kind are allowed in Bled so expect to rent only row boats and kayaks if you plan to hit the water. Speaking of...that's the only way you're going to hit the water- in a boat- because neither you nor your furry friends are welcome to swim. That's OK, there's plenty to keep you busy along the very densely populated shoreline: eateries, casinos, gelaterias...the list goes on. The best view of this charming little gem can be found at Castle Bled, which sits atop a steep, 220-step cliff facing the lake. Parking is everywhere, but still at a premium. If you're going to stay all day, great, pay the day rate and go for it. If you're just staying a few hours, we recommend parking at the €1 per-hour gated parking a few blocks from the lake at the Pension Union mall on Ljubljanca cesta at Grič ullica. From Ljubljana, expect an easy 1 hour drive on well marked roads.
The Istrian Peninsula has long been a coveted little piece of land. It was once a part of the Venetian republic, then Austria-Hungary annexed it, then after WWI Italy wanted it back, and on and on it went until it finally ended up in Slovenian hands, but not without a little tension with Croatia. All of this to say that upon arrival, you would swear you were in Italy, and you would have been right, depending on when you arrived in history. Slovenia claims very little of the Adriatic coast but what it has is absolutely extraordinary. Both Koper and Piran provide lusty views of the Adriatic, Croatia, and Italy. Slovenian cuisine is a beautiful mixture of Italian, Hungarian, and Austrian, and here Italian food dominates, so dig in to any of dozens and dozens of eateries offering fresh pastas and pizzas. You won't go wrong anywhere. Parking is everywhere and in paid lots, all at roughly €5 per day, so you won't file for bankruptcy on parking or food. Walk along the sea, bask on the beaches, and definitely grab a gelato or 3, for cooling off purposes, of course.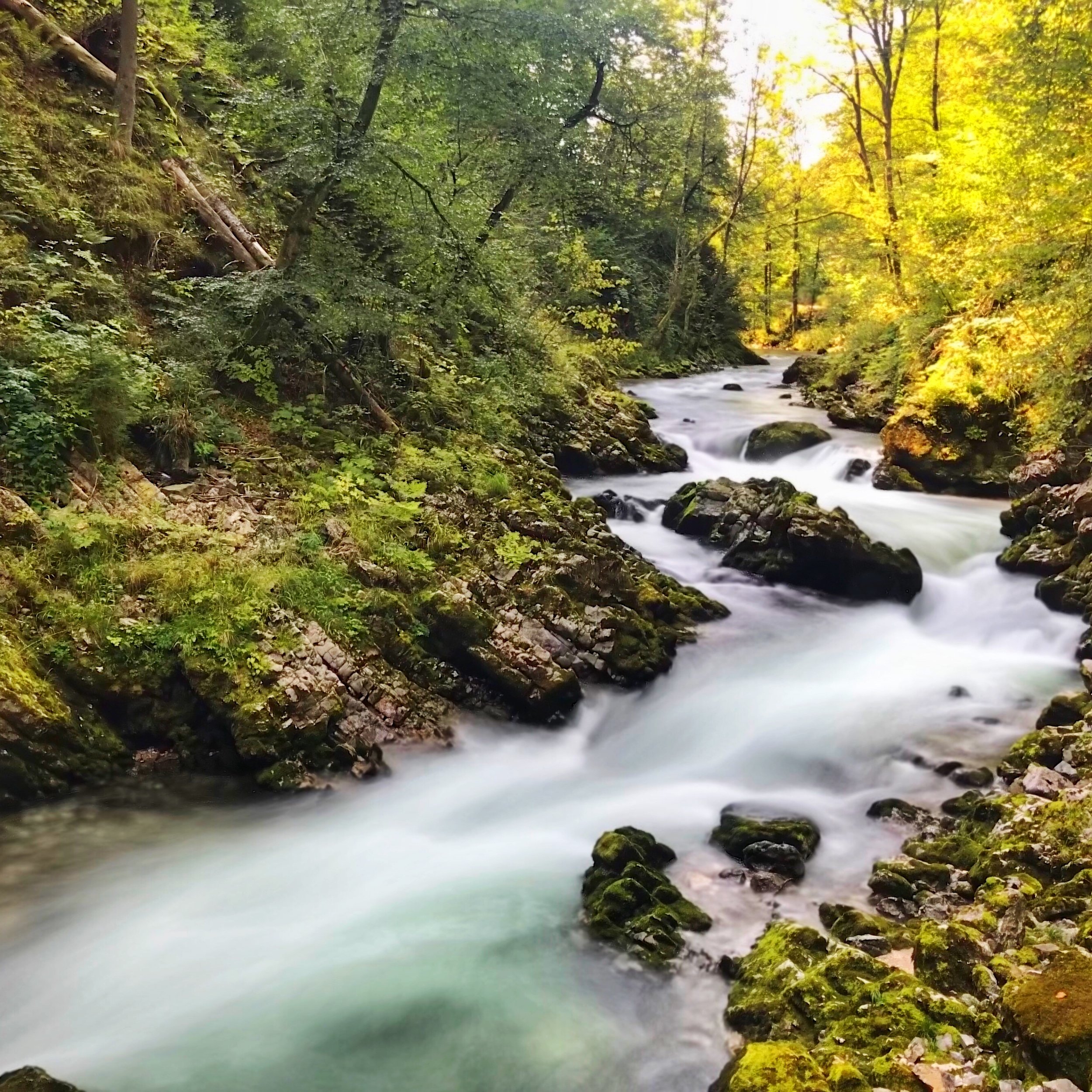 In the Radnova Valley, about 1.5 hours from Ljubljana, near Bled, runs the very active portion of the Radnova River, Vintgar Gorge. The canyon walls run from 50 to 100 meters. At 1.6km long, the gently undulating walkway brings you close to the action: raging rapids, breathtaking falls, and picnic-friendly rocks, all for €5. Your pup is welcome also! Parking is available and free but you'll do more strenuous walking from the lots to the entrance than you will along the gorge itself. One kink: once you've reached the end, the only way out is to turn around and go back from whence you came. So on the upside, you get to see this beautiful water feature twice, but on the down side, you're swimming against the current of people. Just prepare yourself and learn how to say "Excuse me," in Slovenian because you'll be using it a lot. By the way, it's "Oprostite prosim," if you'd like to start practicing now.
We said Slovenia has the largest caves in Europe. We weren't kidding. Postojna isn't even the largest but it's certainly our favorite. It'll take you a fat hour (count on closer to an hour and a half) from Ljubljana heading southwest toward Koper but its a lovely drive through the mountains. You'll have to do this without your furry friend, I'm afraid; no dogs allowed. The Postojna cave system is over 24km long but don't worry, you're only going to see about 6km. Parking is onsite only and is about €1 per hour so, with time for lunch, plan on paying around €4. Tickets are €27.50 for the tour and can be booked online in advance to avoid the growing queue. You'll get to choose a time slot at either purchase point so be prompt! Once there, you'll be sorted by language and escorted to an open air tram that takes you deep into the cave system. BRING A JACKET!!! It's a cave, not a beach! Your language-speaking guide will escort you through the walking portion, photography is definitely permitted, and once you've been wowed, you'll find yourself on another scenic tram ride out of the cave. The entire tour takes about 1 hour and 45 minutes and walking time is about 45 minutes of that through mostly flat, but occasionally steep marked trails, so wear walking-appropriate shoes (in other words, leave your stilettos at the hotel). There are plenty of shops to stock up on your Slovenian kitsch if you've been missing out, and several eateries that serve decent, inexpensive food after you've toured one of the world's most beautiful natural wonders.
Bear in mind that the sites of Bohinj, Bled, and Vintgar Gorge all reside within a few kilometers of each other. You might be tempted to try to fit all of these adventures into one day to save time and money. Don't. Don't cheat yourself on these experiences, each very worthy of its own day to enjoy.
We knew we would love Slovenia, but it exceeded even our stratospheric expectations. From the elegant capital city, to stunning wine country, to natural wonders of unsurpassed beauty that we've highlighted here, little Slovenia is a treasure that you will want to return to again and again. We'll certainly be back!